Kathmandu is not the dirtiest city I've ever been too. That award is divided between Naples, Marseille and pretty much every north Indian megalopolis. Marseille has some room for appeal, the binmen were on strike (it's France, go figure). Naples suffered the same affliction, but for some reason I'm throwing their right to appeal out as I'm pretty sure the piles of garbage covered up greater evils. Like bodies. My life was threatened on several occasions. Well, twice – the remaining times were suicide plans incase I got stranded there.
The wonderful thing is, I learned to love Naples in the five days I spent there. I accepted it (largely helped by pizza), and this weeks Reprint is a continuation of that benefit I was gifted in Italia. Kathmandu is chaos. If the backpacking community had an armed forces, one of the initiation tests would be the troops' first visit overseas being to the 'Du.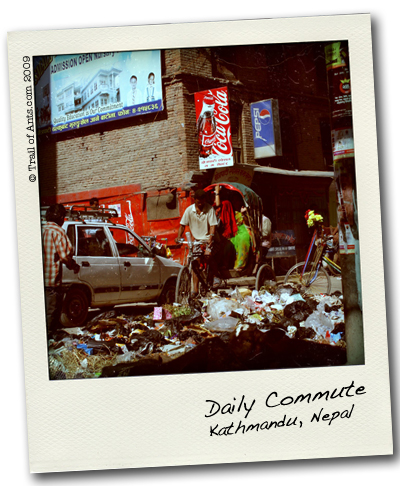 Hawkers hound you. Beggars berate you. Sound shellshocks you. Tourists trample you. Locals live with you. Cows dribble on you. Goats curse you. Temples tower over you. Smells swarm you. And that's all before you've left the confines of your backstreet guesthouse. Take a minute to look at this Reprint, then walk away and look at it once more. The black form in the foreground is two cows, the white car is a taxi, there are two rickshaws, one huge pile of rubbish, one shop, four people and behind the lens – one awestricken Englishman.

Has this weeks Reprint image hit a cord? Let me know about it via the comments panel, or for more imagery from along The Trail take yourself over to the stills gallery.