The nickname of Varanasi is carried on a hushed wind around those muttering it subconsciously at its entrances. Varanasty. This can be interpreted as slightly disrespectful, but I assure you for the benefit of my legal team I have an ingrained respect for the Hindi HQ.
There is a certain underworld feeling flowing through the labyrinth of laneways. My arrival in Varanasi could easily have been the opening sequence of The Beach 2. Substitute Di Caprio for yours truly, pin me into the back of a rickshaw and engage me in a conversation with my Indian counterpart. As he weaved me on three-wheels through herds of cattle and taxis he began his string of warnings.
We left his chariot at the edge of the Ghats, stopping once to glue our backs to the wall and allow a relentless funeral procession make its way to the pyre for cremation. An unforgettable flash of Technicolored chaos. His last warning was that I shouldn't leave my hotel at night, for ruthless knifemen roam the laneways.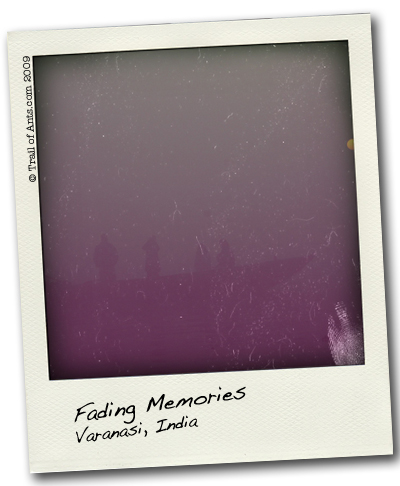 This weeks Reprint shows the silhouettes of the Ganges boatmen. It's the done thing to rise at the crack of dawn and drift along the shores of the Ganges, absorbing the colourful morning crescendo of Hindu life as they flock to the sacred river for various needs and deeds. To observe, was a privilege.

Has this weeks Reprint image hit a cord? Let me know about it via the comments panel, or for more imagery from along The Trail take yourself over to the stills gallery.