In India you ride an Enfield. In England you drive a Mini. In Mongolia you ride a horse. In Africa you roam your cow. In Spain you walk your burro. In Holland you ride your bicycle. In Wales you ride a sheep. Here in Australia, you drive a ute. A what? A ute. A flute, you play the flute? No, a ute. A root. Like a beetroot? The Aussie's like their beetroot? No, listen carefully, a ute – yew-t. Oh, a suit! You need a new suit? One last time punk, a ute! Gettit, a UTE! Oh how nice, you're cute too.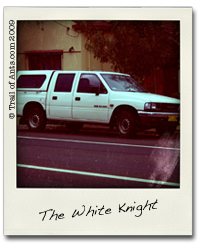 The ute (utility vehicle) is the symbol of the All Australian hero, the tradie (tradesman) and championed by such historic heroes as Alf "Summer Bay" Stewart. If a ute was a Transformer it would literally morph into a chiselled charmer with two-tone calves, splintered fingertips, sunglasses on the head, a pair of steel toecaps and armed mercilessly with a rolled-up copy of the Herald Sun. These are not the obese, sweating bum-crack stereotypes found in other lands. The Australian tradie is a hero, and to all you tradies, I… deep breath… I salute you. This week I joined the gang, despite my looking rather more demure and soft. I now own a ute. I own a ute. One more time, I own a bloody ute! All together, here we go now; "G'day mate, Ant owns a bloody bonza ute!" And when one owns a ute and doesn't own a rusted box of rusting tools there is only one thing that ute owner should do. Drive away. And keep on driving. Don't linger too long so as to be found out by fellow ute-aneers. I'd discredit their reputation. So in t-minus fifteen days I'll slip away at sundown to that not-so-faraway isle of Tasmania. Or Tassie, to us in the Land of Ute.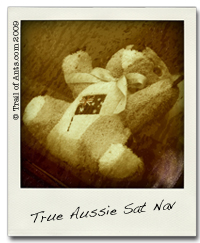 Our ute is also known as a Holden Rodeo, and comes equipped with Sat Nav (GPS), a vital plastic cricket set, a windscreen koala, a taped-up door, a forgotten birthday card, a nail in the tyre and a host of other grime-coated treats. For the educated, it's a '92 crew cab model, complete with a 2.6l petrol engine and automatic transmission. Most of this wouldn't have been my first choice – I'd have preferred a manual diesel, with a one-legged kangaroo but beggars can't be choosers, and the pièce de résistance was the blindingly low price of AUS$2500 (this was mainly due to the previous owners being deported, so bartering from $3500 was rather straight forward). The next couple of weeks will be used to fill the empty tray with everything we won't need for a five-month jaunt around the fringe of the terra nullius (empty land) and traversing the overcomplicated ritual of registering an out-of-state vehicle in Victoria. Then we swap a queen-sized bed, fridge and front door for a tent and all the luxuries campers kid themselves with – like hidden pockets, reinforced zips and tiny mesh vents.
*********
My final words contain no jokes, no metaphors, nor hidden messages. For the past 6 months I have been a resident of Melbourne, a city in the state of Victoria, Australia. That same state now crackles under the largest bushfire's of modern times, and Australia's greatest natural disaster. It's only since arriving in Australia that I have realised the immensely destructive, inexorable nature of these fire storms. The death toll in Victoria is already into triple figures, with many more severely injured, and over seven hundred and fifty homes annihilated. The sickening thing is, many of the Victoria fires were started deliberately by "fire bugs". Out of state, but also not out of mind are the families of the northern state of Queensland who are fighting a different element. Severe flooding, particularly in the north of the state is washing away people's hard-earned properties and memories. Ironically, as floods rip through the north, it is one of the worst droughts in Australian history that is accelerating the fierceness of the fires here in the south, fuelled by low humidity, high winds and record high temperatures (Saturday hit over 46c). It's a fascinating event, for all the wrong reasons and my thoughts are forever with those affected, and my heart goes out to each and every one of them.