I woke sometime in the early hours, laid flat on my back in the cool, damp air of TrailofAnts Towers (a tent in mid-west Australia). Four strangers appeared to be sat cross-legged at the foot of my bed, though Reb was completely unaware, softly twitching at her dreams. A well-presented woman slid me a black briefcase which I knew to be full of cash; a rugged man then flippantly tossed me the keys to a campervan; the third person, a meek brunette girl stuffed a wedge of free tickets to local attractions under the lip of my blanket and a fourth, much more menacing character loaned me his laptop and a bag of expensive looking electronics. It seemed appropriate to say nothing. They hung around, creating an awkward silence then joined hands and collectively prophesised "you cannot take these things for yourself, Ant; however you must lead us to the worthy seven". Several hours later, I woke, and wrote this.
The Lowdown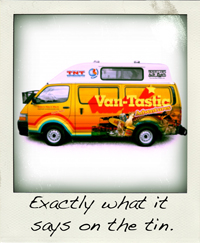 Those ceaselessly fun-loving souls at WorldNomads.com are at it again. They're on the hunt for seven drivers and sidekicks to take a free return flight to Australia to embark on a six-week screech around their preffered state, as part of an 11 month nationwide tour. Each team will take the reins to a fully equipped campervan spiced with no less than $A1000 of fuel money (yes, fuel can be beer). If that's not enough, 'Geoff the campervan' also doubles as a mobile production studio to make the travel world and their mothers proud with footage, stills and a blog scratch. If you need your arm twisting any further they'll also chuck in free activities – along the lines of outback jackarooing, surf camps, sky dives and encounters with whale sharks (coming soon on ToA.com.
The Lower Down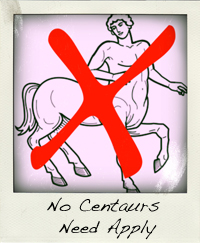 I know; you've just wee'd yourself at the thought and you're waiting for the catch? Firstly, the maximum size of a team is two, making the minimum just one person – therefore if you're a centaur I'm afraid you've fallen at the first. Secondly you must come from anywhere in the world – so if you're a Martian, I'm sorry little man, you're out too. You also need a valid domestic driving license that you've held – not literally – for at least 12 months. The biggest catch, is that you really need some experience with editing equipment as there is no room for a live-in geek. If you can't spell editting equiptyment then that will probably rule you out as well.
The Down Low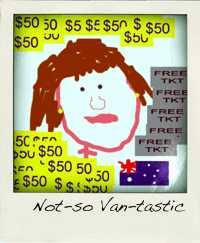 WorldNomads.com Global Programs Manager, Amanda Byrne (whom I cannot confirm was sat at the foot of my bed that night) confirms "applications are now open for the 'Van-Tastic Adventure', where travellers can win a trip to Australia and spend 6 weeks driving across the country capturing their adventure on video to ultimately win $A10,000 cash and flights from Virgin Blue." Sorry Amanda, can you say that last bit again? "flights from Virgin Blue?" No, the bit before that, "…ultimately win $A10,000 cash…" That'll do nicely; $A10,000 and Virgin Blue tickets are up for grabs to the Champion(s) of Champions; one of the seven teams which scores the undying love of the travel nation for their final 3-5 minute mini-documentary of their finest blend of grub-chomping, surf-flumping, possum-bashing and snorkle-jousts.
As Low As You Can Go
To prove your worth just upload a two minute video to the World Nomads Group on Youtube exlaining why you deserve it. I'll stop here and give you a hint – do not be the pasty person sat at the webcam droning that "my friends say I'm crazy". It's up to you if you include your uglier teammate – personally I wouldn't. In fact if it was me I'd just make them drive and do all the filming, never mentioning the $A10,000. Finally just fill out the online application form complete with begging and bribery and cross your fingers. And your legs. And your eyes. Closing dates ar'a comin' folks so don't be a gunnado – slip on some fins and snatch this uniquely Van-tastic opportunity. I would if I could, but I can't.
World Nomads' charity doesn't end there, they also grant me the privilige of gifting you lot 6% discount off World Nomads Travel Insurance via the promotional code TRLANT to keep you covered anywhere in the world this summer winter.