My mother always insisted vegetables were good for me, so for 21 years I obediently munched my way through her gloomy carrots, sinewy runner beans, and even the odd heap of pungent spinach. Then I cut the apron strings, and for four years I phoned her weekly to ask her how to recreate the sloppy clumps of sentiment. My recent retreat from Chinese meats landed me in a vegetarian restaurant in Jinghong, across from Reb, my recurring itch of an accomplice. We were separated by a feast of imitation crispy duck, sweet and sour meatballs, Chinese vegetables and a vibrant 33-year old Chinaman, called Joe the Bridge.
Travelling in Jinghong
I'd met Joe a few days prior in the popular, Mei Mei Cafe. He was charming, confident and outgoing – the diametric opposite to the Chinese I'd met to date. He spoke English so fluently, he flicked on a London accent – or so he believed – whenever he saw fit 'Hull'oh, m'yi ni'aim iiiis Ja-oh, wud yow li'k m'ey to ow'der yow a be'ya?'.
I accepted, and over dinner Reb and I explained our jungle-based fantasy. We wanted to experience life in the wood-hut villages that speckled the dense hillsides of the Xishuangbanna region. There are 56 ethnic minority groups in China, and here in the south west Yunnan province, 26 of the most colourful groups have pinned themselves defiantly to the hills with chopsticks.
The only sticking point, was Joe's apparent reluctance to take up the challenge. From what I could gather, his, "I'm a tour guide" claims were merely to earn a fast buck from his smooth-talking talent. He'd given me the sales patter earlier that week. 'We go here, lunch here, say hi to these people here, sleep here, next day visit here, then get bus back from here, via here,' he recited monotonously while I stirred my morning coffee. His eyes flicking round like the greedy tongue of a frog out for prey.
Back in the café, we stood our ground. We wanted to stay in a family's house and we knew the colour of our Yuan could forge a path through the jungle. 'Many mosquitoes,' Joe exclaimed, we swiftly replied, 'we've got deet'. He persevered, 'We stay in guesthouse, nice, clean!' We grinned, 'It's only one night, we'll ignore any dirt.'
Visiting Rural China
The next morning, we met Joe as arranged, and set out to the bus station. The previous nights sleep was broken numerous times, titbits of news from home had sparked my mind into overdrive and by 4am I'd re-enacted a hectic week of home-life. I washed my mind clean with blobs of sticky rice and a splash of ice-tea. I gained energy from Joe's enthusiasm, pinned back by an aura of disquiet. It wasn't until our arrival in the small town of Menghun, that I realised just how out-of-depth we'd put him. 'It's challenging, Joe likes a challenge,' he announced in an unconvincing tone.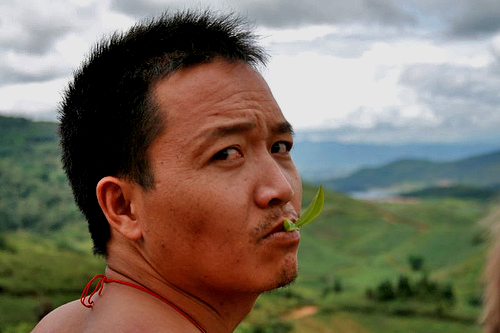 He decided we should first visit the local government office. We stumbled through the main street, passed mangy cats and natives who choked on their breakfast noodles at the sight of us marching, "foreign devils". It was a humid Saturday, and to Joe's dismay we discovered an office occupied by a friendly-faced man, who conversed with Joe about our ambition.
He was pleased: tourism was a powerful tool for local government, and we were encouraged by his helpful attitude to head to Mangang, an Aini village 10km up from Menghun along a mountain path. Joe the Bridge — so-called because he claims to be "the bridge between English and Mandarin speakers" — had impressed us with his ingenuity. Had I been in the same situation back home, the last place I would turn is the pompous town hall.
Within moments of leaving the office — with water bottles eagerly filled by the government official cum tourist information clerk — we struck upon our second pot of luck. Joe's neighbourly approach had secured us a ride in the trailer of a Mengang resident's tractor. The tractor was more a glorified sit on lawn mower, and packed enough grunt to scare the mysterious local elephants back into the fading tourist brochures. Nonetheless, we bounded up the hill clutching our night bags and cameras, while Joe announced our driver had agreed for us to stay at his family home.
Meeting China's Ainu Tribe
With the warm air deflecting off my sunglasses, I looked down at the peasant Hells Angel as he transformed into Mei You, husband to Liu Xing and father to the pearl-eyed Zhing Hai Yuan; 17-months old and as we soon discovered, cherished by an entire village.
The journey to Mengang was mesmerising. The rumpled stomping grounds of local farmers slipped effortlessly into playful sheaves of rice and tea crop. Bamboo shoots sprayed towards the clear blue skies, above a swooping landscape, clothed in a luscious green coat and crown. Sugar cane spontaneously sprouted, swaying serenely in the tractors wake it waved us by, aboard our rice-laden chariot.
A short while later, we descended along the narrow path to the village. It was larger than I'd envisaged. A concrete blotch of a building seemed to pin it's more traditional wooden counterparts to the rugged, chicken infested terrain. As we were paraded through the village — standing tall upon our rusting chariot — there was a sense of pride emanating from the drivers perch. He'd gone to market to convert his rice crop into grains, and returned with a twain of English folk and their friendly Jinghong chaperon.
Hospitality is a Chinese specialty, and this was carried through to the heart-warming end. Relieved of our bags, we were given a perch on a wooden terrace overlooking the village. Our weary spirit was revived with Chinese tea, and through Joe the Bridge we talked about life up here, in the tropical forests of Xishuangbanna.
Lunchtime in Yunnan
Mei You explained his father's occupation; he was a black bee farmer. His sole job was to discover the underground 7-tier hives of the fierce bees as big as his thumb. The larvae (biabu in local Aini dialect) are considered a delicacy, and fetch upwards of £80 for a honeycomb pallet in the more affluent Chinese cities.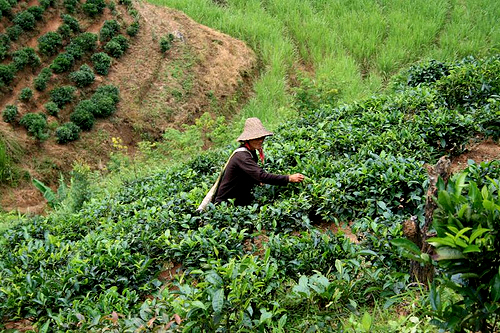 Following a lunch of Chinese cabbage, white carrot, fish head stew, the ubiquitous rice and a couple of bottles of the local spirit, baiju, we wobbled up the weathered pathways to view the now infamous bees in flight. From the ground they appeared like slick apache helicopters commanding their terraced territory. The long traipse up the hill also granted us consistently dazzling views of the lands that bound the hut village into a natural amphitheatre.
Money is never expected in China for selfless acts, though small offerings are gratefully received so we searched out the village vendor, and boxed up 5 bottles of baiju, 2 bottles of lemonade, 4 bottles of beer, a few packets of cigarettes and some treats for little Zhing. At less than £5, we still felt naturally indebted but the unwritten rule — wherever in the world — is to avoid ruining the harmony of a community by stockpiling them with outlandish offerings, which they couldn't ordinarily achieve.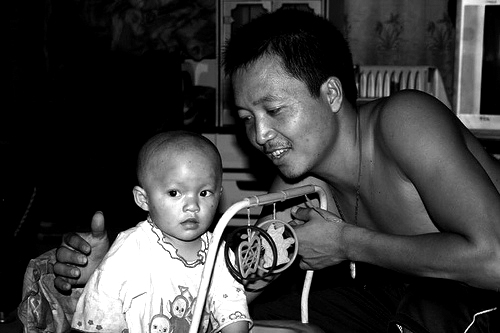 Throughout the day, word of our arrival spread, and the sizeable wooden hut (maybe twice as big as my single-storey-residence in England) filled with friendly-faced neighbours. Exactly who was a relative, and who was a friend became irrelevant. We sat in the living room-cum-foreigners-bedroom, while Pearl Harbor – that epic of Japanese suffering – jabbered quietly on the television set, over-powered by the comedy involved in our conversation.
Feasting on Chinese Delicacy
A short time later, the glass-topped coffee table played stage to a pallet of the pale slates. Black. Bee. Larvae. Within moments I was offered a free sampling, which I politely declined. As much out of ignorance of the ritual, as my distaste. The locals — seemingly not as squeamish — tucked in. They popped the small, pill-like grubs into their mouths, smiling as they chewed, before picking bee excrement from their teeth. Just like that.
The red-blooded male within me was stirring. I plunged my hesitant fingers into one of the delicate, brown paper-like segments and withdrew my wriggling prey. My only demand, was that the bumble-poo was removed beforehand. Nevertheless I lowered the blob into my mouth, and chewed and grimaced and chomped and smirked and finally, swallowed. My realisation of the moment was shrouded behind applause. I gasped. I'd just eaten black bee larvae.
Dinner with China's Ethnic Ainu
An hour passed before we were ushered through to dine: a feast of fish head stew and white carrot was joined by bamboo root (pale potato like chunks), which Mai You had dug while on our earlier jaunt. The table was also host to the alcohol we'd gifted earlier. My drinking bowl (or jiba homar in the local Aini dialect) rarely suffered drought. Our chopsticks (or chida) gathered mouthfuls of generosity from the bowls (homar) of food Liu Xing had prepared. With our bellies full, and memories filled to the brink, the baiju was opened and friendships cemented with cries of ji bador (Aini), gambei (Mandarin) and cheers! As if using the raucous atmosphere to disguise the appearance, the biabu (bee larvae), reappeared. They'd been steamed, as if that justified it.
More Treats in Yunnan
The stages of the larvae's development soon became apparent as I stared at the board of white specks. The inner-sanctum contained the shit-lined infants, a swift pinch would reveal their intestinal cord, which was easily removed. Its sibling neighbours appeared more like white-chocolate bee-brides, wearing a thin scale over their head, like virginal wedding veils. The further towards the outer-suburbs of this pallet of honeycomb, the more bee-like their appearance became. Eyes formed. Legs appeared. Their bodies segmented. In the very outer rings, were the gangs of juveniles; perfectly formed, and armed in their beastly black bodice. Much smaller than their apache parents, but nonetheless terrifying in demeanour.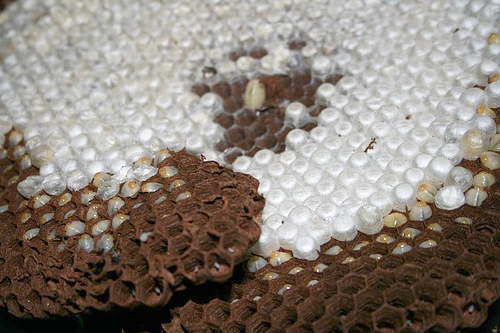 Whether it was the baiju, or the incredible spirit of the moment, I found myself munching my way through the stricken community as if they were a bowl of peanuts in a pub. Only once however, did I brave the outer reaches and crunch the bitter black jacket — wings'n'all. That time the round of applause was more sincere, I had earned my place within the Aini if only for a fleeting moment. Reb, fuelled by peer-pressure eventually followed suit, perhaps intrigued by my incessant pickings but equally, and deservedly applauded.
Bedtime in Rural China
With midnight drifting off into the night sky, the assembly of new friends gradually dispersed. Somewhat worryingly, some relied on motorbikes to ride them home to neighbouring villages. Myself, Joe and Reb lay to rest on a thin mattress on the floor.
Wiping the sleep from my eyes in the morning, I pictured the seven empty baiju bottles clinking around with the empty beers. Though that innocent bliss, was shattered by my recollection of popping bee larvae habitually into my mouth. We breakfasted on wheat noodles and Chinese onion, and a welcome mug of lobo do (tea), before using Joe the Bridge to communicate our endless thanks.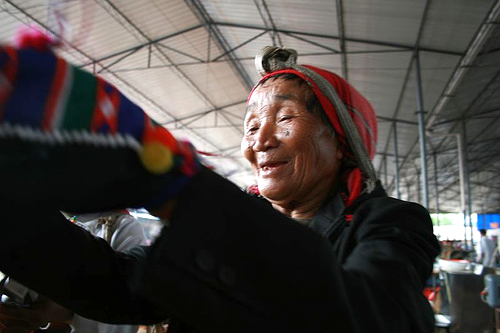 China's Dream Market
We returned to Menghun — once again by tractor — to find the Sunday market in full bloom. Stalls selling intestine, pigs' penis and buffalo stomach as well as more usual offerings of white carrot, Chinese cabbage and the like. I didn't see any biabu.
Everywhere I looked, I was reminded of everything my mother's cooking never was. The market acted as the ingredients to a fantastical dream, one I never wanted to end.