Travelling with your parents is something most of us reserve for our adolescent years. Being sentenced to shlep around Disneyland with your whingy little sister, when you'd much rather be at home snogging the face off rebellious girls.
WHAT I'VE
LEARNED
I've been on the road for three years now, and I'm proud of the fact that during that time I've travelled with my parents for a total of around seven weeks. Easily more than I have for the past fifteen years.
I've travelled with them across northern India and central Sri Lanka, I've driven them around Tasmania, and welcomed them to New Zealand. After all that, I'd happily join them in any corner of the world.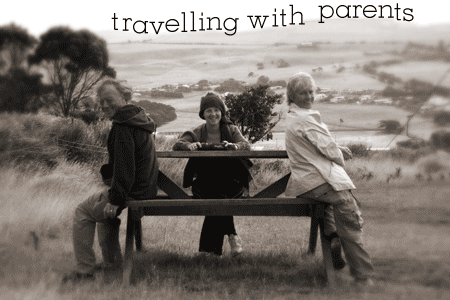 I've got to know my parents in ways I'd never imagine. I've mothered my mother, scolded my father and introduced them both to their future daughter-in-law.
I'll be honest — I never imagined I could ever do this. Since hitting my teens, I fought tooth and nail to avoid family holidays, and if my memory serves me correctly, I served my last one up aged fourteen.
I'm now in my late twenties; so what have I learned about travelling with my parents?
TOP 10 TIPS

FOR TRAVELLING WITH YOUR PARENTS
BRIEF THEM:

Make sure your mum and dad fully understand the type of travel they're about to experience. Do they think you're travelling 5-star through some of the safest regions of the world? Make sure they realise your chosen style of travel. Confess all, they'll thank you for it.

ADD A LITTLE SPARKLE:

Travel can often be such a black and white experience: Your Culture + Their Culture = Our Culture. Before your folks embrace you in a foreign land, have a scout around and unearth some sparkle. Perhaps they've always wanted to ride a camel, or your mum deserves a massage. Plan ahead, and hit them with some sparkle on the very first day.




FESS UP:

If you have anything you want to speak to your parents about, this could be the perfect time. I've spoken to mine about everything from life and love, to death and desire. These aren't easy subjects to bring up around the breakfast table back home. Travel allows us a unique outlook; one in which we're capable of dealing with most things just a little bit easier.

BUY THEM A BEER:

One thing I learned early, is to buy the first beer. Or at least try. Many parents have a natural talent to pay for everything. While that's naturally great for the budget traveller, it can leave you feeling guilty soon after they leave. Keeping things equally split adds to the experience. This is your journey.

GIVE THEM A BREAK:

Whereas

you

might be on a pilgrimage of tiny budgets, take a step back and consider your parent's reasons for travelling. Perhaps they've worked hard all year to be able to afford to join their favourite son or daughter in Outback Australia. While you'll be ploughing on, chances are they're returning to their day job. Splice in some well-earned rest.

THE BUDGET:

My parents have often been shocked by how low my budget is. They soon got used to it, but perhaps I should have warned them what comes with it. Draughty hotels and street food galore might not be what they're expecting. Ease them in gently.

HAND OVER THE REINS:

Don't let them have it too easy. If they're joining you, give them a taste of what it takes to make the most of every day. Over breakfast one morning, suggest "This Monday and Tuesday, it's your call folks!" If they stammer, slip them a guidebook. If they turn pale, pass them a glass of water.

CAPTURE THE MOMENT:

Once they've gone, ensure they're not forgotten. Consider small tokens such as personalised postcards featuring you all in mid-adventure, or go all out and order a photo book. Hopefully this will be one of the best holidays of your lives, it only takes an hour to add the wow factor.

GIVE THEM SPACE:

It's natural to feel like you should be looking out for mum and dad every minute of the day and night, but cut them some slack. Beneath the parental history, they're a couple of star-crossed lovers on holiday in a faraway land. Three's a crowd anywhere in the world, so take opportunities to take some me-time, and allow them the same.

LEAVE THE DOOR OPEN:

Most travellers welcome their parents with open arms, and it's a let-down to wave them off home. If you liked having them as travelling companions, make sure they know it. They might be thinking it was a once-in-a-lifetime opportunity to spend this time with you. Was it?
WOULD I DO IT
AGAIN

?

I never thought I'd be the person to write this post. I'm an ardent independent, and I cut the apron strings in a blaze of youthful misgivings.

I've met hundreds of people along The Trail and I can safely say my own parents make fantastic travel partners. They loosened up when they needed to, and coughed up when we had to. The three of us made friends in a way that transcended the normal parameters of our family.

It felt like we were letting my childhood go. Casting it from the rickshaw bench. Tossing it out of night trains. For my own relationship with my parents, it was the ultimate metamorphosis.

Like a helpless caterpillar, crawling along on a plump belly, I've emerged as a brilliantly coloured butterfly spreading his wings and inflicting horrible insect-based metaphors on the unknowing public.

In all seriousness, there is no better way to get to know your parents than to invite them along on your travel adventures. In many ways, I wish I'd saved all my family holidays for the days in front of me. When I can appreciate them as individuals, and we can share adventures.

At least then I could have stayed at home, and snogged more girls.
Have you travelled with your parents? What was your experience? Perhaps you can expand on this post, and ensure that we get the most out of these far flung family reunions.