In almost every country I've visited in Asia there is a town where artisans almost outnumber tourists. Undoubtedly talented, you can find the most amazing local and international art at guilt-pecking prices. In China it's Lijiang. In India it's Cochin. This image could have been anywhere, but it's from the Balinese town of Ubud.
These days Ubud is a true tourist Mecca. From its roots as a sleepy village it has heaved itself up to become an internationally renowned centre for arts (the downfall being its no longer a sleepy village). Ubud also has the wonkiest pavements in history and it can resemble a Himalayan hike walking along some streets. If you're planning on visiting Ubud on a budget I can recommend the Wayan Family Guesthouse on Hanuman Street, spacious rooms with breakfast included (some days curiously green kaya pancakes).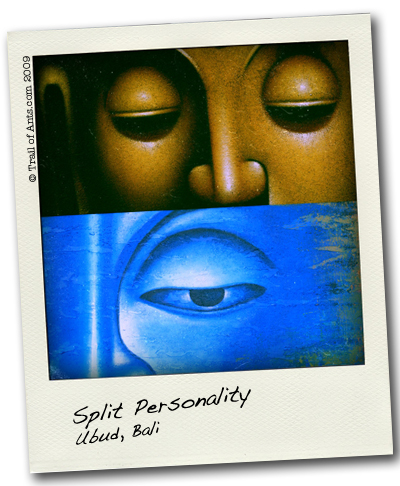 The image in question is not manipulated in anyway other then to 'Polaroid' it. It shows the familiar faces of Buddha. One eyes opened. One eyes closed. There is a significance to do with this, I believe it has something to do with him being dead or alive but instead of rushing to Google I'll leave it to you, my trusty commenteers to complete the riddle for everyone else.

Has this weeks Reprint image hit a cord? Let me know about it via the comments panel, or for more imagery from along The Trail take yourself over to the stills gallery.