Some stories just shouldn't be told. Perhaps this is one. You be the judge. It was in Western Australia; 180km south of Perth, in June 2009. My girlfriend, Reb and I were jerking along beaded speed limits, which lament the type of housing estates where everyone drives the same car, and everything else is just-so.
The early winter sky was being sponged by a soft pink and blue sunset. Just as it began to spit rain we pulled off the Old Coast Road and into the Leschenault Peninsula Conservation Park, south of the town of Binningup. A natural tension gripped the moist air, leaving just enough space to seek out a campsite with our headlights. "You pitch the tent, I'll cook some pasta!"
Poles. Inner tent. Pegs. Flysheet. Duvet. Mats. Pillows. Teddy bear. Torch. Water. Laptop. DVDs.
Water. Pasta. Sauce. Bowls. Forks.
"That was close. It's really coming down, babe!" Rain smashed the tent. It sounded like the crust of the earth was being torn away from its Velcro bind. We gave up on the DVD.
Eight hours later we crawled out. It was deadly quiet. As so often happens on road trips in Australia, you only get to see your 'bedroom' after you awake. It's like a one-night stand with nature. You zip up your fly, run your hand through your hair and then hit the road.
Only, that morning there was a reminder that perhaps we were not alone during the deluge. A blue nylon noose now hung beside our tent. I was certain it wasn't there the previous night, because it was dangling above the natural thoroughfare that led from a small picnic table to our ute (Aussie station wagon).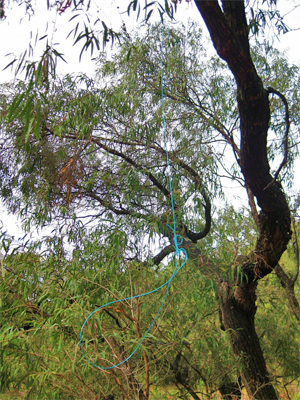 I discovered it when it tickled my sleep-numb face. I thought twice about telling Reb. I decided I needed to. I pointed to the flimsy, writhing death knot that hung from a dark eucalyptus tree. "We weren't alone last night babe", I said quietly.
"Don't be a twat!" thundered Reb. Those were her last words for a while.
I decided not to argue the point. Truth be told, I was dumbstruck. This was the Australia of the movies. The Australia you're supposed to joke about in city hostels. The Australia that's not supposed to happen.
The Australia you shouldn't really blog about, because travel blogs are supposed to inspire, and enthuse. Not strike gongs of fear or soak up images of surfing hunks, and sinking suns.
Our journey around Australia was spread across a landscape of rugged, mountainous emotions. Around the union of proud, individual states you are hurled to the highest point of elation. Unassailable ecstasy on the shoulder of a secret cliff, you cast an eye across native kingdoms, past and present.
The following day you find yourself free-falling; hurled from your blessed viewing platform. Smashing into jagged rocks. The sound of squealing ancestors ripping at your ears. Toes and wrists tangled in a yarn of side roads. Then silence. Lonely silence.
The kind of silence that causes you to crave a hundred different nightclubs. And Tesco's. The conflicting truths that you're so fucking far from anywhere; but that you're in Australia, the country on everyone's must-visit list's and at everyone's doorstep.
Perhaps that noose was a metaphor for the journey itself. That you can rush into a place. Eat. Fuck. Sleep. Then wake up, and be confronted by the secret drama of death. Death of your will to continue. Death of your want to recall. Death of the dozen stories you should have told. Could have told. Would have told. If there hadn't been that noose.