When most people think about Tibet, they imagine feuding monks and stray chopsticks. However, as I discovered during an overland passage from Lhasa to Kathmandu, the region was far from the barren landscape of old.
This week I've brought you an image from a roadside stop on that journey, of some rather large sand dunes. They were fantastic, and I spent a good hour clambering to the top and hurling myself off the ridge — much to the amusement of some local kids who sprang mysteriously out of the dunes like the bairns Enid Blyton. That's me in the cloud of dust in the centre of the shot.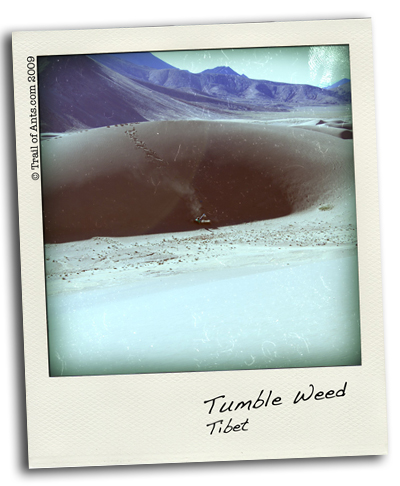 Tibet remains one of the most delightful periods of my travels. Its skies — without wanting to drench you in clichés — are mesmerising. By day, their enormity is unfathomable, and by night they take on an incredible depth. Stood high on the Tibetan plateau, you get a real sense of what it is to reach out and touch the sky.