This weeks Reprint is disgusting, and funny. Disgustingly funny, one might say. It's about that global addiction that rears its butt in so many ways – smoking.
I've been quitting smoking for nigh on twelve years. I mostly just quit buying them, and smoke everyone else's. Especially when I've been drinking. I suspect my fable of excuses, mirrors that of many readers. So, this weeks image brings you my ever-present girlfriend, Reb – a veritable twenty-a-day chimney pot.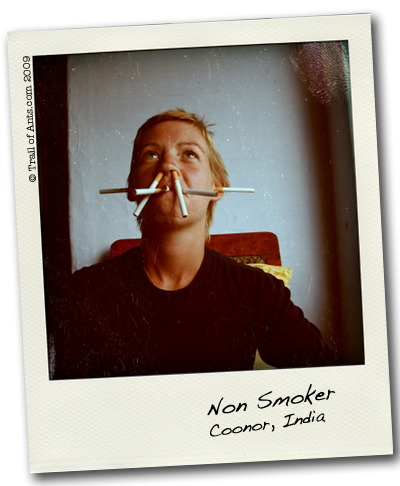 In order to give this post some sort of credibility, I'll bring to the forefront the painstakingly obvious fact, that it's incredibly hard to quit smoking while travelling in Asia. I believe the percentage of smokers among travellers in Asia is far higher than that of the Western trails, and it comes down to one thing: money. A packet of cigarettes in India (where this shot was taken) costs around 70Rs (£0.90), and that's relatively expensive.
Therefore all the smokers on the fringes of quitting – or even those that have recently achieved purity – come out of the woodwork. Coupled with the low price of alcohol, and the beautiful and frequent stabs of panic, you create a smoggy paradise smokers. And why not, you conclude, you're 'on holiday'.
(Please don't lynch me about the cost of cigarettes. We all know the real cost.)