If you haven't asked it, answered it or dreamt about it, you've probably Googled, Binged or Yahooed it. "How much does it cost to go travelling?", "How much does it cost to backpack around the world?" or, "How much does it cost to wash my knickers in Nepal?"
The way I solved the holy-question of how much it costs to go travelling, was to invent and integrate the Birds and the Bees; birds being the flights, and bees being the beer, Big Macs and beds. The bees are a simple representative each countries overall costs.
I'm assuming you won't munch your way through a Big Mac or drink a beer every day, but the cost of these are relative to the cost of typical things you'll buy throughout your vacation; a newspaper and a can of coke, or a brunch of spicy street food, and a bus ticket.
Background Research
To give a fair representation of costs, I've researched the same itinerary for a Londoner, New Yorker and Sydneysider. All three will leave their city on February 1st 2010, and they'll all travel clockwise around the world.
At the appropriate point along their journey, they'll spend 3 months in and around Bangkok, 1 month in the region of their counterparts' cities and a month each in L.A. – therefore half of their journey will be in the Western world, and half in the budget haven, Asia.
Are you baffled? Stick with me.
The main split will not be our traveller's nationalities, but the type of traveller they are. So I've broken it down into these three categories:



The important thing to remember, is that no part of this study can be exact but it's as close to the bone as I can get it. Consider it a best estimate of the cost of travelling.
There are endless variants; special deals on flights, insurance, scoring free accommodation, falling sick, travelling overland. I've also omitted the widely varying price of vaccinations (mostly free in the UK), and the cost of basic kit (some people already have this). All of these will affect the final cost, so this study should simply be an idea of the typical cost of backpacking.
How Much Does a Round the World Ticket Cost?

All three of our travellers will need a series of flights. To obtain the average cost of a six month Round the World (RTW) ticket — that touches down in London, Bangkok, Sydney, Los Angeles, New York and return home — I went to STA Travel and two of the main alliances; OneWorld and Star Alliance.
The New Yorker grabbed himself a round fare of £1986, the Londoner £1906 and the Sydneysider £2031. For the purposes of fair competition, all were done under the guise of a 27 year old traveller — and surprisingly, STA Travel failed to secure any one of the three.
Is it Better to Buy Single Flights?

As a seasoned traveller, my opinion has always been that it's cheaper to book single tickets, even if you do them all before you leave. For this study I spent a few hours at Momondo, Expedia and Sky Scanner punching in the various itineraries. This proved me right.
The New Yorker would pay £1459 (a saving of £527 on the RTW), the Londoner £1477 (saving £429) and the Sydneysider £1495 (saving £536).
How much is Travel Insurance?

I also ensured they're all insured. I chose two of the most popular budget backpacker insurance companies, with the guideline that the insurance company should be able to cover all three of the backpackers with relatively cheap travel insurance. STA Travel and World Nomads both fulfilled this, though their main competitors appeared to be local to each country.
It's also important to know, that even though I provide and promote a World Nomads promotional code, TRLANT that delivers a 7% discount, I did not apply this to these three theoretical travellers.
Unsurprisingly, World Nomads secured all three potential customers on the price of their travel insurance; New Yorker (£157), Londoner (£191) and Sydneysider (£220).
Alarmingly, if all three had taken their policies out with STA; the Sydneysider would have paid almost three times (£658) the cost for the New Yorker (£237) or Londoner (£223).
How Much Should I Allow For a Daily Travel Budget?

This is where it gets tricky, the typical daily spend is based on the aforementioned Three Bee's; beer, Big Macs and beds. They'd all be spending c.90 days in Bangkok, plus 30 days in Sydney, L.A., New York and London (excluding their home city's).
To research this crucial fragment, I spent forty days and nights on HostelWorld.com researching the typical cost of a dorm room in each of the cities for the Thrifty and Casual traveller. Then I dug a little deeper to secure the average price of a single room in a hostel for our Flash traveller.

So we know how many Big Mac's, how many beers, what style of bed and for how long each of our intrepid nomads are going to be in each city. Their nationality only changes things slightly — for instance, none of the three will pay the rates of their home city.
For example, a Thrifty Londoner would need approx 30 dorm room nights in Sydney, LA, NYC and 90 dorm room nights in Bangkok. Plus for every night he'll need one Big Mac and one beer. This would cost a total of £2964 for the whole trip, which equates to £16.47 per day.
What Should I Budget for Travelling?

I realise that travel isn't merely about survival. There's a need to integrate with a region; the temptation to splurge shouldn't be thwarted. So, here are some typical things to do in each of the five cities, along with the typical cost to do it. You'll see that I've only chosen one high-priced activity — more on that later.
In London they'll spin round the London Eye (£17.50); in Bangkok they'll see the Grand Palace (£5.40); in Sydney they'll give in, and climb the Harbour Bridge (£132); in L.A. they'll visit Universal Studios Hollywood (£42); and in New York, they'll scurry up the Empire State Building (£12.26).
I'm making an educated guess here; over the course of six months the Thrifty traveller is going to do the equivalent of climbing the Sydney Harbour Bridge and everything else just twice. This doesn't mean they'll actually climb the bridge twice, merely that they'll swallow the equivalent cost, twice. He might climb the bridge, and do a skydive or swim with whale sharks and take a helicopter flight in Manhattan.
So over six months, the Thrifty traveller will spend £418 on treats, which equates to an extra £2.32 per day. The Casual traveller will do this twice as often as the Thrifty and the Flash at least three times as much. So we arrive at £4.65 a day for Casual, while our Flash traveller racks up an extra £6.97 per day.
How Much do Travel Visas Cost?

Let's not forget visas. This one's quite simple for our group of travellers. Only Australia will charge the New Yorker (£10) to enter, while Thailand will charge them all (£18) for a 30-day visa. The cost of exiting and re-entering Thailand (because you can't usually stay for 90 days) should be considered to be covered by the bees.
So, How Much Does it Cost to Travel?
You will have noticed the alphabetic reference on the sections. If you take A (RTW ticket) or B (PAYG tickets); then add the relevant Thrifty, Casual and Flash equations of C,D, E and F you arrive at the following answer to the question of 'how much does it cost to go backpacking?' Remember however, that this should be viewed as an educated guess;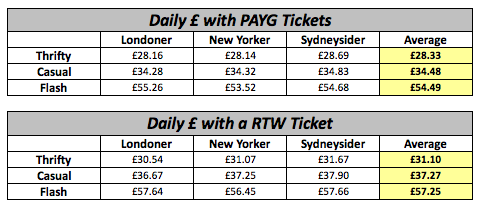 Conclusion of 'How Much Does it Cost to Travel?'
In conclusion to the above, I'm going to share some interesting points to emerge from my research.
Despite the fact that all three nationalities were departing on the same date — initially to different places — there was a difference of just £36 between the least and most expensive collection of PAYG flight tickets.
With regards to travel insurance, there is clearly a difference in approach to each nationality. Look at both national and international insurance companies. If you do decide to go with World Nomads, then you're welcome to use the promotional code TRLANT to score a 6% discount.
The cost of a round the world ticket varies wildly, if you believe they're worth the extra outlay it is definitely worth shopping around and bartering. The dates you fly affect the final price, and in my experience it isn't an easy process, despite the agents providing various groovy tools.
As most readers will know I've been on the road for over two years, so this isn't just armchair opinion. I collated all my costs after one year on the road in Asia in the post 'One plus Two=Free', and the conclusion then was that it cost £16.60 per day. If I adapt this recent study by using purely the Bangkok rates, I come to a guesstimate of £17.53 per day so that's within 6% and in my opinion, goes a long way to finally answering the question of "how much does it cost to travel?".
And how much does it cost to wash your knickers in Nepal? Now you know how much it is to get there, why don't you go and find out for yourself?
******************
I'd like to thank the following websites for being so simply brilliant: for the price of beer and Big Macs; PintPrice.com and TheEconomist.com; for hostel beds HostelWorld.com; for fuss-free visa info ProjectVisa.com; for the PAYG flights Momondo.com, Expedia.com and SkyScanner.com; for the RTW tickets OneWorld, Star Alliance and STA Travel; and finally, for travel insurance World Nomads and STA Travel.