They were crammed in like broken string puppets in a dusty backstage box; elbows twisted around ankles, and their shoes a peculiar mishmash of colours.
I forced my way into the pale grey cabin with my backpack, then squeezed out a seat on one of the two lower bunks. "Hi, I'm Ant. Don't worry, I'll save my farts for first class," I joked.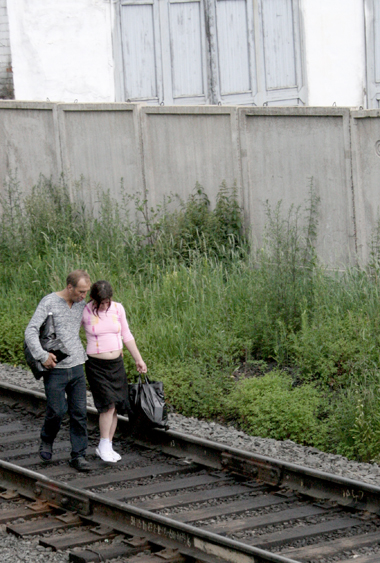 "I am Anton, and this, is Eveline. We are from Austria." We shook hands: One gay. One lesbian, I assumed. Another passenger grinned sinisterly. A mute Mongolian, I reckoned. "That's Erdenebaatar" said Anton, "he's a Mongolian. Does not say much."
I'd only decided to go to Mongolia because my ex-girlfriend didn't want to. I wound her up so much, we broke up. I'd coldly booked the Trans-Mongolian route, because it was cheaper than flying and after five days in Moscow — being bitten by swarms of nyets — I was devoid of romantic notions: I needed sleep.
"Vodka?" Did that Mongolian man just say, vodka? It was 10 o'clock in the morning, I mused.
It appeared there was little choice.
Within an hour I was warmed with the friendship of this smiling Mongolian. Within two, he revealed the vodka we were sharing was meant as a gift for his family. I became good at translating, and informed Anton and Eveline that Erdenebaatar had just completed police training in St. Petersburg, and was heading home to Mongolia. And, would we care to watch a Mongolian pop music video?
Beats looking out the window, I figured.
When Erden wasn't drinking vodka, he was asleep. He did both with equal discretion. But somehow, when he sat with a bottle of vodka, I felt obliged to sit there with him. Some days, I had to sneak away to meet new people.
Les and Gavin, were a pair of butchers from Lancaster, England. Gavin was in his late-thirties, and wouldn't have looked out of place in a wrestling ring. Les was old enough to be his father, and looked the spitting image of the boxer, Henry Cooper.
They were travelling from Lancaster to Hong Kong, entirely by train. My eyes widened, "That's amazing, are you writing a blog?" I heard the distant thud of his meat cleaver. I laughed, nervously. "Do you fancy a game of chess, Ant?" asked Les.
I'm drunk, I thought. "Sure," I said.
After an hour I retired. The hypnotic thrum of the Trans-Mongolian doesn't allow you to do anything, for too long.
At 07:35 on day six we arrived in Mongolia's featureless capital, Ulaanbaatar. I gathered my belongings and alighted Train 4 as a flock of touts descended onto the platform. I stepped to the side.
Tony and Evelin were haggling; their flailing arms danced in the morning chill. Gavin and Les, the motte-and-bailey of the platform, stretched out their weary bodies. I caught a glimpse of Erdenebaatar scuttling between his compatriots. Mongolia, it seemed, was a nation of puppeteers — and I'd secured front row seats to their show.

This post has been entered into the popular Grantourismo–HomeAway travel writing competition. Please show your support for my entry in the comments below, and retweet it to Twitter.