Two weeks on the go-go-go usually finds me sighing no-no-no! and circling within the tranquil charm of Tasmania I don't feel any different. I turned to Reb at yet another suggest-you-see coastal panorama and confessed "babe, I'm knackered". Regardless of it being Wednesday, I declared it an unofficial weekend and by late afternoon we were pitching up in a small caravan park and letting the abundance of Tasmania drift away over the panel fence.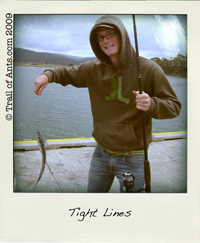 I wish I could tell you every minute detail about that small east coast town. Gladly, all I can tell you is it's called Triabunna and it's the departure point to the natural wonder of Maria Island (though everyone I met agreed the $50 fare was too expensive). My artificial Sunday was spent reliving my boyhood; dangling my feet off the edge of a jetty and tossing a baited hook into the watery unknown, while making easy conversation with a couple of stray Victorian pensioners by the names of Karl and Cynthia. The size and shape of the fish was irrelevant – as was the fact that I cremated all three that Karl caught for me the next day. The fact was I was relaxed. No stunning vista to tick off. No critical part of history to digest. No museum of missing pieces. Just me, sat beneath a circling sea hawk and a sulky sky. "Right, come on Ant. Rod down, we're northward bound!"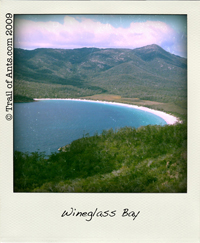 Tasmania's Freycinet National Park is famous as the home to Wineglass Bay, one of the world's most famously beautiful beaches. It earned its name from the claret colour of the water during whaling season and is a showstopper. I frolicked in the icy Tasman Sea in my boxers for all of 2 minutes before shivering onwards along an 11km circuit which takes in Wineglass's far better-looking sister, Hazards Beach whose short sandy walls are injected with oyster shells discarded by the long silent aboriginal people. We made a short stop for some cartwheels on the affably named Friendly Beaches, then once more in the saintly St Mary's for a genuine wallaby pie (from what I could tell it tasted quite gamey) before we sizzled to a halt beside the roaring waves of the Bay of Fires.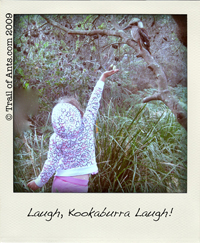 As luck would have it we were reunited with some friendly neighbours from our previous two campsites; Kiwi's Geoff and Di are taking time out to enjoy their kid's childhood and it seemed to be paying off. The adorable (rare for me to award) Jon and Sarah were constantly covered in grime and laughter and I'll cherish the time I had them fooled that the campfire was singing and talking. Relight my Fire and Burn Baby Burn were popular requests (at least with two people). We were also joined by a couple of thieving possums, a bullish herd of bull ants, a laughing kookaburra and a gaggle of sea fishermen. As with Wineglass Bay, the Bay of Fires also takes its name for an observational young explorer who saw the many fires of the native folk lighting up the coastline. Beneath a graphite raincloud the waves I indulged my gaze upon were infused with thunder and wore the colour of a distant blue-crayon sky before they crashed over giant rocks, tinged with speckled-orange lichen.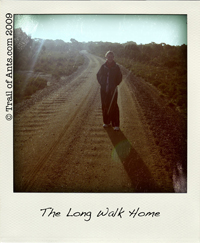 Further up the coast were the plains of Mount William National Park. We eventually made it there after a monumental GPS-assisted detour that took us through the eerie unsealed logging tracks. Once the GPS agreed with us that we were on a road, it began to comply and deliver a route – not before time, as we were running on vapours. However the point we were told "you are 500 metres from your destination" turned out to be devastatingly disappointing. The other side of a river was a town with a small petrol station. Our side of the river was a grumpy, thirsty car. In between, were the crumpled remnants of a bridge that according to one local collapsed three years ago. It was through some miracle that we stuttered into an independent petrol station that day. The Mount William National Park will be remembered for two other things; the incredibly crap weather that tested our tent erecting skills to the limit with wicked gusts and driving rain (we passed), and our first sighting of a (live) chubby wombat who flashed across our path during an intentional evening drive.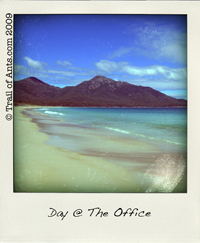 It will come as little surprise that the east coast of Tasmania is the most popular tramping ground for tourists. Fantastic infrastructure, fresh produce, clear air and a shoreline that is so unimaginable that I've begun to doubt the whole existence of places such as Mauritius and the Caribbean. The enticing posters of idyllic beaches fading away on a thousand travel agents walls, simply cannot be anywhere else but here in sheepish Tasmania. The east gave me everything I wanted; a weekend and a wombat.
What do you do to take a break while on the road? Where's your own favourite coastline? Share it all in the commentary below.