Would you take a dog-eared dollar, over a stiff back? Are you travelling from Wellington International Airport at ridiculous-o'clock and your travel mates are panicking? Are you a Brit in search of a cheap Battle Cruiser? If you're getting sweaty at the axillas, at the thought of diuretic-dollars, then grab this branch of budget advice, and save your fellow travellers' money. These are the tips, you didn't budget for.
FAQs About Wellington Airport
Can I sleep overnight at Wellington Airport?
Common Answer: No. Correct Answer: Yes.
Wellington International Airport is officially closed between 01:30 and 04:30 in the morning because it's so embedded in a residential area. This leads many to believe it's impossible to kip on the Olde Backpacker Hammock (the airport floor). They'd be wrong.
The airport's Night Duty Manager has the authority to allow you to stay overnight. They review everyone on a case-by-case basis. Gather around the central bar, Orb from 8:30pm. The friendly manager will come and ask you a couple of questions; "Who are you with?", "Why are you still here?" If you're on an early flight (first flights are usually 06:00), and you're pleasant and presentable, they'll usually let you stay. They cannot accommodate a large crowd, so priority rules when hoping to sleep at Wellington Airport.
Is there free alcohol at Wellington Airport?
Common Answer: No. Correct Answer: Kind of.
A beer at Wellington airport will cost you around $8. Alternatively, consider spreading the cost and getting three beers; plus free food, free internet and printing, free showers, free tea and coffee and soft drinks, free newspapers and magazines, and the use of a comfortable lounge (yes, for free). Well, not entirely free: but $25 all-inclusive.
Head to the Wild at Heart Lounge, which is operated on a pay-as-you-go basis, meaning you don't need to be a member of expensive clubs, and they're much more accepting to the working class. Kids are half price, and there are often promotional flyers being distributed reducing this to $19, $15 and often just $10! Three beers for $10 — I'll take that.
Is there cheap parking at Wellington Airport?
Common Answer: No. Correct Answer: Kind of.
You hunted around for cheap flights, so why chuck your saving down the drain by paying for expensive parking? Wellington Airport regularly offers up to 50% off their rates, so if you're parking at the airport, then always check their website for cheap airport parking. Many people will tell you just to stick your motor in the neighbouring streets, but I've seen quite a lot clamped recently so do this at your own risk.
Do I have to check-in two hours before departure?
Common Answer: Yes. Correct Answer: No.
I don't mind airports. I know some travellers can't stand them, but let's face it, they beat other transport-hubs hands down. Perhaps the most common question asked of Wellington Airport is: How long before my flight, do I need to check-in? I've checked with the four main airlines, and here's what they say.
Pacific Blue, say:
International
Check-in at least 120 minutes prior to departure time. Especially if you have a Special Service Request (SSR) booking or are travelling in a large group. Check-in closes and boarding commences 30 minutes prior to departure time
Air New Zealand, say:
International:
You are required to complete final check-in no later than ninety minutes before your international flight is due to depart. However, due to increased security requirements on all flights operating to, through and from the USA, final check-in time is no later than 2 hours prior to departure.
Domestic:
You are required to be checked in 30 minutes before the departure of your domestic New Zealand flight, unless you are connecting to an international flight. In that case, please be checked in 60 minutes prior to the departure of your domestic flight.
Qantas, say:
Various times. It's best to check the link (all airlines are linked in this section). There absolute latest is typically 30 or 60 minutes prior.
Jetstar, say:
International:
[Abridged] Jetstar (JQ) flights leaving International terminals: # Jetstar (JQ) flights leaving International terminals: 3 hours before your scheduled departure, and closes 60 minutes before your scheduled departure.
Domestic:
[Abridged] Jetstar (JQ)… flights leaving from domestic terminals…New Zealand: opens 2 hours before your scheduled departure time and closes 30 minutes before your scheduled departure time.
Is it expensive to eat at Wellington Airport?
Common Answer: Yes. Correct Answer: No.
My hot tip for the year, is Mojo Café's promo breakfast. For $8 you can grab a good coffee (usual cost $3.80+) and eggs on toast. Considering it's an airport, this isn't bad. Alternatively, consider the Wild at Heart Lounge, which opens at 6am and closes at 8pm as the $25 entry fee includes your food and drink, and much more.
Are all my taxes included in my flight from Wellington Airport?
Common Answer: Yes. Correct Answer: No.
A common oversight for international travellers out of Wellington Airport is to presume all taxes are included in their ticket. Wrong. For some reason, Wellington Airport still do this manually. International passengers have to pay this prior to going through the departure gate. You need to do this at the Travelex beside Mojo Café, at the International end of the terminal. Departure tax in Wellington is currently $25.
Do I have to pay $7 for the bus to get to Wellington International?
Common Answer: Yes. Correct Answer: No.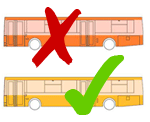 Now, I'm presuming you're a thrifty backpacker, so you're not adverse to a ten minute walk. Before continuing, I'll say that the orange Airport Flyer in Wellington is just $7 one way from Wellington central, so already offers good value compared to other capital city's airport connections. However, you can't use the $6 all-day Daytripper ticket on it, which you might already have. Plus, there's a cheaper option.
Take the Number 2 Wellington to Mirimar and alight at Caledonia Street at Hobart Street (near 38), or the Number 11 Seatoun bus, from Taranaki Street at Vivian Street (Briscoes), and alight at Hobart Street at Broadway (near 3).
Both buses are regular, and will cost you just $4 ($3 off-peak) and both leave you with a really short walk (10 minutes max). If you're baffled, just ask the bus driver. They'll mostly grunt, but stand still and look gormless and they'll eventually give in and grant your wish.
What is there to do at Wellington Airport? I've got four hours to kill.
Common Answer: Nothing. Correct Answer: Loads.
Leave the airport. It's incredible how many people feel it is their duty to stay at the airport. Do not be scared to leave. As with most airports, Wellington is completely glass on one side of the terminal, so it's impossible to miss the view of Lyall Bay, which is almost always full of life.
Lyall Bay is one of Wellington's best surf beaches, featuring a couple of cafés, surf hire shops and a retail park dominated by Warehouse (New Zealand's iconic equivalent to K-Mart). You can get there two ways. You can walk via Moa Point, which is the way you possibly drove there. Or, you can take a secret tunnel. Yes, a tunnel runs between Coutts Street in Rongotai. Check out this map for more information.

View Tunnel to Wellington Airport in a larger map
Is there free WiFi at Wellington Airport?
Common Answer: Yes. Correct Answer: Yes.
Wellington Airport offers free Wifi to everyone within their terminal. And the kiwis are not security nutbags either, meaning that anyone can visit Wellington Airport whether they're flying or not (it's basically a medium sized shopping centre, with free wifi!) The network is called Wild at Heart (also the brand name of the airport per se), and you just need to enter you email address (actually, any email address) to gain unlimited access.
Is it true Englishmen get 10% off retail at Wellington Airport?
Common Answer: No. Correct Answer: Sometimes.
If you work at Wellington Airport, you get 10% at all participating stores. It would be extremely rude of you to try and purchase something, and pass yourself off as one of the unknown employees from another store. Books, sunglasses, surf wear, coffee — they're all expensive. These companies need your cash. You owe it to them. I don't advocate fibbing.
Most of these tips and advice for visiting Wellington International Airport can be checked prior to arriving. As the author — wait for it — I am not responsible for any amount of mischief, or misdemeanour's that my inside knowledge leads to. Use these budget tips at your discretion, but above all, have a safe journey.