I don't think this weeks Reprint needs any words at all. Just look at him. He's the cheerleader of the tour bus troop. I'm outspoken in my denial of there being a fundamental difference between a traveller and a tourist so I'll choose my words carefully.
What you're looking at is the amazing spectacle of debating monks at the incredible Sera Monastery in Lhasa, Tibet. The senior monks are in effect, educating the rookies. They debate on all aspects of monastic life, from Buddhist philosophy to who does the dishes. The man stealing the stage is naturally, American (I heard him speak) and he should not of even been standing where he was.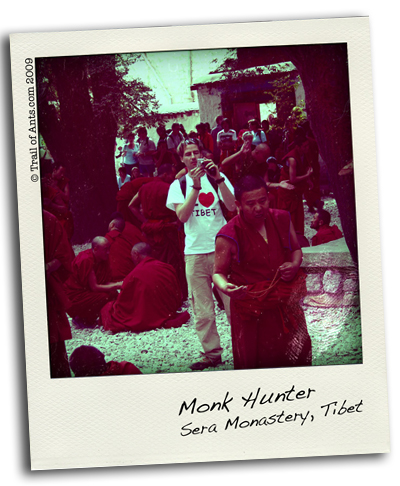 This Reprint loosely raises the debate; is all-access tourism good for Tibet? Being on the fringes of this spectacle it was hard to imagine that these young monks were not influenced by the actions and attitudes of myself and Mr. I ♥ Tibet. I won't comment too much as the Reprint is a light-hearted feature. In fact I'll balance things out and say that monks are one of the rudest, most annoying sets of people I've ever had the displeasure of queuing up with. If you let one monk queue jump, you might as well wait for nirvana. There. I said it.

Has this weeks Reprint image hit a cord? Let me know about it via the comments panel, or for more imagery from along The Trail take yourself over to the stills gallery.