It's a rite of passage that a traveller devour something they couldn't find in their local café. Your friends expect it. Your family retches at it. People you meet on the road compete against it, and the bottom line is someone's always gone one better.
I met an American senior in Mongolia who claimed to have eaten everything off the infamous feast table of Indian Jones and The Last Crusade, as well as countless other treats including drinking the blood of an African cow directly from its pulsing neck, but he wouldn't eat the essential English breakfast ingredient, black pudding. I'm not a wanker. I respect peoples choices. This trip alone I've chosen to eat snake, scorpion, dog, fermented mares milk, pigs penis and the nuggets of loveliness on display in this week's Reprint – the live larvae of the black bee.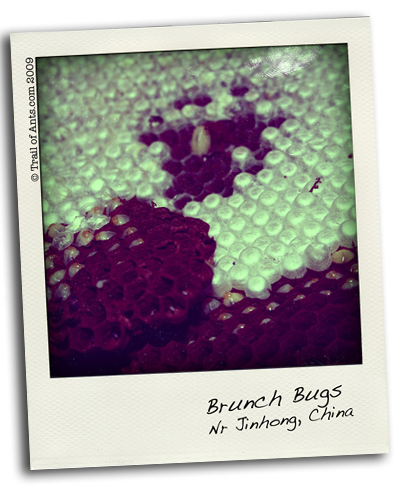 It was during a privileged visit to a rural Chinese village in the southern province of Yunnan that the honour fell to me. They tasted a bit like sweet corn, and after a few bottles of baiju (Chinese liquor) I was popping them in at alarming speed, being careful to split them and remove their shitbag. I reckon I scoffed about forty or more, ensuring I tried the outer wrigglers and the more developed, bitter inner circle. It was a night to remember, not least because I turned vegetarian soon after (though that didn't last passed Singapore).

Has this weeks Reprint image hit a cord? Let me know about it via the comments panel, or for more imagery from along The Trail take yourself over to the stills gallery.