Imagine your school blackboard as a section of raw rock where you sit bare-chested in the spread of shade beneath an overhanging cliff. Your best friends granddad is babbling on about a supposed serpent – one that sleeps not far away. He mixes coloured ochre with trickles of water, and scolds you for not listening. He begins to paint; this captures your attention (you love to paint too). All over the rock face he paints bright kangaroos and snappy turtles, plus mysterious spirits and wondrous patterns. As he strokes the mottled rock with his fingers, he asks you all what you know of the land in which you live. Silence seeps throughout the cool shaft – contested by a warm smile, challenged by anticipation and defeated by the beginnings of the elders' stories. That shelter your classroom; and that rock your country.
Soup of Reptiles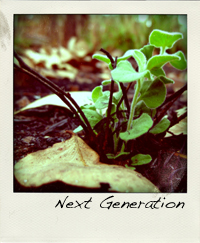 If I were a national park I'd like to be called Kakadu. Kakakadu. Dududu. Kakaududu. Kakakadu. Up near the northern tip of Australia, the verdant floodplains of Kakadu rest in the still waters of billabongs to await The Wet – the season that turns much of the double World Heritage Site into a soup of reptiles, birds, insects and vegetation. Green is the colour you need to conjure here. Green and sparkling water, all weighed down with vibrant rock formations whose hems are stained with intricate and brilliantly simple pieces of art.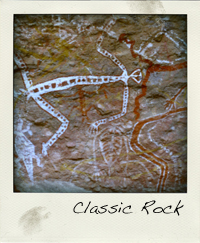 To the north lies a pickle of seas, to the east the escarpment and plateaus of the sacred Arnhem Land; the twang of touristic Katherine is south while west are the lithe lights of Darwin. The curse of luxury tourism is grappling its way into the belly of Kakadu but nothing can take away from that most perfect blend of all-things-green, rusty red rock and abundant water. We spent a few days drifting between educational visitor centres, lookouts, riverbanks and billabongs and rock art galleries before facing the final untouched section of our loathed companion – the Stuart Highway.
Peddling Free Spirit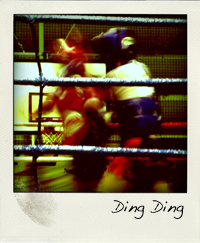 A quick blast in the ute and we arrived in sprawling Darwin. As with faraway Hobart, the quaint vision of my mind was destroyed with every aching suburban kilometre, as we pierced an inward route. As luck would have it we'd arrived in Darwin during the friendly Arafura Games which brings together many of Australia's Asian cousins to duel in sports from basketball to lawn bowls and more excitingly, sepak takraw to Muay Thai. We enveloped ourselves in all that we could but Darwin will be remembered by a different strain.
Darwin offered me the feeling of being on vacation. Quite a rare sensation for a long-term traveller. It was the warm and humid air that wrapped itself around me each time I exited one of the many air-conditioned buildings. There's a strip of open-air bars that wouldn't look amiss in Bali, and the standard parts of all Australian cities; serene beaches, quays and palm-lined shopping streets. To compound all this, Darwin is blessed with markets peddling the art of free spirit but even more brilliant than this was the market food.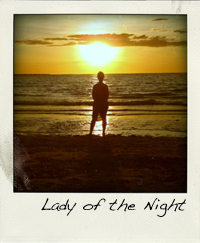 Food from every corner of my beloved Asia; Timor L'este, Sri Lankan, Japanese, Thai, Chinese, Indonesian, Indian! Laksa, curry, lassi, samosa, stir fry, satay, and dumplings – lip smacking heaven! The Mindil Night Market plies its trade beside a comfy white beach at sunset. As the sun pulls away, the chants of a busking Aborigine in need of some beer money drift like lost rafts across the Indian Ocean. Those moments appreciating a Darwin sunset took me back a year to Bali and the countless events of 'sunset beers'. The other major products on sale are the vibrant loose-fitting cotton-wear of the Indian subcontinent. Every bohemian variety of baggy pants and v-necked shirts is on offer for ten, sometimes twenty fold the original cost and sublime art from both the indigenous and contemporary schools that clash in a fountain of colours at Mindil and all of Darwin's awesome markets.
A bite to eat and some new clothes – surely darling Darwin isn't so cheap? Of course not.
Subtitle to the City
In the forties Darwin was flattened by the Japanese – a little known tragedy of war. Battered, scarred and bruised she held her head up high. On Christmas Eve, 1974 a second blow hit the shores. Cyclone Tracy ripped through Darwin killing 49 with a further 16 considered 'lost at sea'. Gusts of 260kmh forged a modern day saga that can surely only be fully understood by victims of similar events. The poignant subtitle to the city's exhibition reads: "a story of endurance and recovery, courage and faith."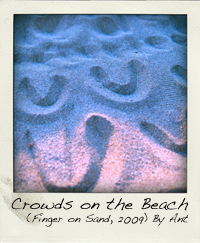 The Cyclone Tracy exhibition is found in the Darwin Museum & Art Gallery, a thrilling and fascinating vault that contains untold numbers of facts and fusions. The natural history rooms are alive with every taxidermic creature ever to have twitched a whisker, flipped a fin or thrust a tusk in the Northern Territory (and believe me, there are plenty). The building also displays numerous vessels, an exhibition on Indonesian jewelery, every feasible fact on the infamous native crocodile and silent halls of contemporary art, which wouldn't look amiss in the Tate. My favourite piece was a dot painting of 'ET Returning Home' by indigenous artist Linda Syddick who likens this Spielberg blockbuster to the ascension of Christ. Yes, Linda argues that ET is Jesus on his way to heaven and Elliot and his family, His disciples.
Darwin dutifully delighted; acting like a nail in the wall where I can hang a hundred new pictures and ideas. From here on in, the only way is down (and left a bit).
Where have you found the best markets in the world, and why? Do you have any suggestions about content you'd like to see here on TrailofAnts.com? Spill the beans below.