Her eyes look cold, like a pair of dried up wishing wells. Her face and torso swollen, reducing the stalk of her neck to a blunt junction. Deep black hair, yanked back to reveal the delta of a clammy forehead, from which the bridge of her nose leads down between puffy cheeks and a stern mouth. Her appearance is Neanderthal. No wait, Indian. Yes, she looks like an Indian girl disrobed of her sari and redressed in clothes of a life more ordinary. Between us, two windscreens mottled with desert flies deflect any hope of friendship. 'Fucking hell, it's an Aborigine!' I think, before thinking. Stalemate at the junction to a car park, a silence so loud I fail to hear the blaring orchestra of horns. I wave her through, she passes nonchalantly. 'What else could I do? She would of speared me!' I joked. The joke of ignorance. The joke of persecution. I'd heard much harsher jokes en route, but never met the punch line.
Denim and Dust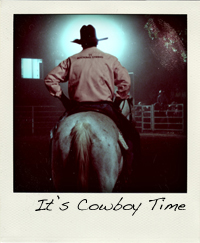 Daly Waters; A smudge of a place in the Northern Territory but known the world over for its pub whose charm is gleaned from its curio. Its hundreds of strangers' ID cards. Its bras and musty footy shirts. Its signage: lewd, rude and hilariously crude. It's what Aussies deem 'true blue', a trophy of everything that is Aussie. We struck it lucky and arrived there on rodeo weekend so the hamlet was throbbing with denim and dust and all things cowboy. It was my first experience of rodeo and I'm confident it'll be the last.
I found it overtly cruel in a most unnecessary manner. The cows were obviously scared and the use of vicious, relentless canines to assist in controlling the cattle was pretty shocking too. Imagine a pitbull locking its jaws onto the side of a cow's head and being swung through the air by on a thrust of prettification. I wasn't sure if the cowboys and girls were stupid or brave. I concluded both. This was compounded when I watched a stocky Aborigine get thrown from a bucking bull and brutally knocked out cold against the metal fence of the ring. The reaction of collective despair among his friends and family a telling reminder of his close-knit community.
High Notes and Smiles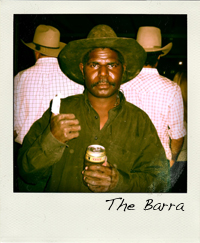 As the dust settled the sun trotted off and the evening shindig began. Cowboy hats bobbed on the dance floor. Cowboy hats queued at the bar. Cowboy hats gathered in groups. Cowboy hats sank in a stoop. An Aboriginal jackeroo named Barra befriended Reb and I, proclaiming we were the first English people he'd met and generally entertaining us with his jovial character. He had that distinctive accent of the Aboriginal people that can be hard to follow, and you find yourself bouncing off the high notes and smiles. Barra was full of praise for his "respectable boss" and the boss' wife and left me elated by the fact that after 8 months in Australia I'd finally managed a meaningful confab with a real local.
You should know that soon after this, I looked up at four swaying cowboys in their mid-twenties who were sat on the top of the five-bar gate of the rodeo ring. As I tried to scale it I slipped halfway up on a fine layer of dust and fell to the ground red-faced and devoid of man points. With the unshakeable melodies of Shania Twain's "Feel Like a Woman", Dolly Parton's "Nine till Five" and every Don McLean song ever imagined ringing in my fuzzy head we left Daly Waters to head north.
Fascinating Stalemate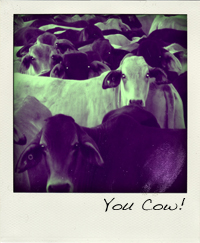 Slowly but surely I was painting a picture of real Australia. It's often not far from the stereotypes; bullish, bulbous populations who descend on Europe due to their country having no history, but in truth live in a country where one of the world's oldest civilisations suffers beyond the gaze of most folk. A modern, silent civil war with little room for manoeuvre. Can today's residual Aborigines restore, replenish and return to self-sufficient ways. Should they? Or should they integrate themselves ergo should the so-called 'white Australians' stop dictating and start listening. Undoubtedly a little of both is happening in some areas and I can safely say, I have ventured and heard from too little to start prophesising but as a bystander I'm finding it a fascinating stalemate.
Are you a cowboy at heart and have a different opinion or experience of rodeo? Do you think I've covered the standoff of cultures fairly? Don't be a Sheila, speak your mind.