I say wolf, you say creek. I say Wolfe Creek, you say movie. I say Wolfe Creek the movie, you say backpackers. I say Wolfe Creek the backpacker movie, you say gruesome. I say Wolfe Creek the gruesome backpacker movie, you say murders. I say Wolfe Creek the gruesome backpacker murder movie, you say don't go there. I say I'm going to Wolfe Creek from the gruesome backpacker murder movie, you say you're nuts! I say I'm nuts and I'm going to Wolfe Creek from the gruesome backpacker murder movie, you say cutout this 'you say, I say crap'. I say you say I'm nuts and I say I'm going to Wolfe Creek from what you say is the gruesome backpacker murder movie, I say movie. You already said movie. Yeah I'm saying it again. Why? Because I'm nuts. Says who? You. You who? Gotta go, someone's calling me. Who? I don't hear anyone? Hmm, strange, just heard a yoo-hoo. That was me. So you say.
Two Chocolate Croissants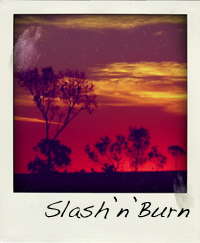 In both the movie world and the tinged reality we live in, Wolfe Creek is the site of the world's second largest meteorite crater (after Arizona). After a 3 hour drive over bruising corrugated dirt-road we were met with its sloping outer edge, rising twenty metres out of a crunchy Outback like a lonely ocean swell. The sun was feeding a slash-and-burn sunset and in a 'small world' coincidence Reb pointed out a young guy and gasped "skinny latte, one sugar and two chocolate croissants!" He shyly affirmed he was indeed that regular from the Melbourne cafe where she'd worked. I considered my location, then inwardly adjudged him to be the future 'Skinny Latte Skinner'.
The Skinner's Comrades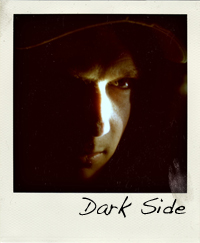 As the cool blade of night shaved away the twilight I routinely acknowledged the Southern Cross before settling into a chaotic conversation with The Skinner's senior comrades. It was a conversation that rarely veered from Prince Charles, Gordon Brown or the social disaster of Australia's indigenous people. I've noticed whenever white Australians become beached on this subject they soften their tone to sympathy, before relaying their fail-safe solutions: Cut them loose to return to the old ways; Educate them; Curb the charity. All meant in good faith, some make more sense than others but the overall opinion remains the same – the Aborigines of Australia are in a massive limbo. It's unacceptable to go back and undecided how to move forward.
Welcome to Earth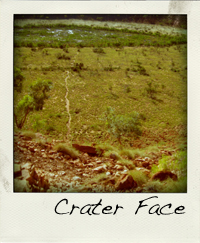 The local Jaru people believe the Wolfe Creek crater is where a giant snake emerged from the ground, while Reb believes it to be a UFO landing site. In homage to the little green men and the big green reptile we created a message in sticks: WELCOME TO EARTH. The bullseye is bare and concretionary, surrounded by a perfect ring of green meadowy brush, which in turn is surrounded by low clumpy grasses that lead up and over the rocky ridges which were once believed to be six times as high.
Two Cans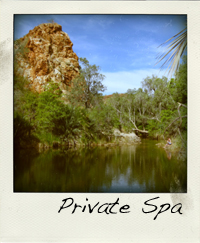 We left the crater behind, relieved to have avoided murder and looped through Halls Creek to Palm Springs, a little known water hole ideal for swimming, fishing and all the joys of camp by fire. Refreshed, we continued west through the sweeping bends and arcing dips of the Great Northern Highway. It was five-thirty and darkening fast as we pulled up in the town of Fitzroy Crossing, home of the Crossing Inn (the Kimberly's oldest pub) where we were sat by seven p.m. clenching two cans of VB in the lively spit-and-sawdust pub. It was a Saturday night and the clientele were almost entirely Aborigine, each of whom were pleasantly drunk.
Toe Sucking Incident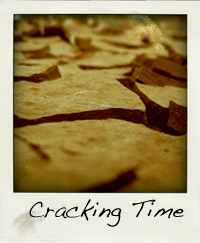 What followed was a bit of a blur. A well-spoken stocky Aboriginal man in his fifties, dressed neatly in a thick red-checked shirt and cowboy hat sat down, introduced himself and showed great joy at discovering we were "pommies!" from "the motherland". After some light questioning – during which the bar shut disappointingly early – we were joined at our table by Bullen's granddaughter. In one ear, Bullen explained the community was celebrating the vote that would abolish daylight saving. In the other, his granddaughter was insisting I don't swim in the local river because a "big snake, bigger than an anaconda" would get me.
Bullen's real skill was an unbound knowledge of the British royal family. He brilliantly recited royal anecdotes as he persuaded me to chauffeur him through the drive-thru bottle shop (the only way to get take away booze). I hadn't realise that included his jovial friend Carol, or that she would attract a comically inebriated white-haired black fella but I didn't mind. The bottle shop turned out to be shut so we took them the 3km home. Bullen's parting words were awesome; "they're kinky buggers those royals, take that Sarah Ferguson and that toe sucking incident!" Following a flurry of farewell thank you's our ute was left drenched in silent consideration before we burst out laughing in disbelief. Without doubt, this had been the best value beer in Australia.
Have you ever been left dumfounded by local knowledge? Or perhaps you've visited the inspiration for a famous movie and have a story to tell? Share it with the rest of us via the comment thread below