Left a bit, left a bit. This t-junction? No. Down a bit. A bit more. This old gold-rush town? Warmer! Down a bit. These big round, red rocks? Getting warmer. Down a bit more. Hmmm. Ah! The little green aliens – that's it, right? No. Warmer though. Alice Springs – yeah? Nope. What! Left a bit. Really warm now. Bloody hell – not the 'black fella'? Very close! The desert? Colder. The flying doctor? Freezing. The boring highway? Warmer. What about that red-rock hill, whatchamacallit… Uluru? Bingo! How'd I miss that?
"A Rally of Lonely Eucalypts…"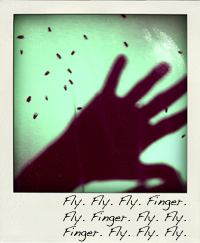 The 2834km Stuart Highway lays like a peacetime spear between northern Darwin and south coast Adelaide and to my disappointment, the section we drove north of the junction for Uluru (Ayers Rock) was achingly dull. If it weren't for tiny titbits of titillation I'd have gouged an intent u-turn. This was the famed Aussie Outback, a landscape that daren't wiggle or wave, and riverbeds that renounce the rain. A rally of the majority tufts of spinifex grass, lonely eucalypts, tenacious termite mounds and pondering, prickly bushes disguise a lively red-sand desert. Apart from the grand wedgetail eagles and kites, wildlife is sparse – unless you consider the humble fly a citizen of the animal kingdom. If you do, then the outback is undoubtedly the most populous of places. Personally I now consider them the scourge of the earth and only trumped by the relentless mosquito.
"Fibreglass Sheep…"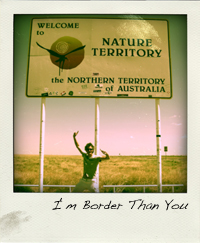 The 1163km journey from Mt Isa to Alice Springs took us across the Northern Territory border but most undeserved of your time, other than a few things of note. Firstly, despite my cold front towards the outback I find it has a calming influence like the ocean (ironically this is what it once was). This stretch also gave me my first observations of the infamous Aboriginal Australians. I say 'observation' because it was obvious neither they nor I was ready to interact with the other. At this point they're an enigma (urban-Australia had succeeded in installing this slither of xenophobia in me). This stretch also bred a loathing – that of Australian caravaners, and it would be these jokers (rather than the presumed Aborigines) who would become the symbol of any future reluctance to cruise the central oceans again.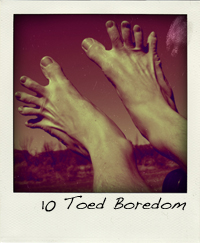 China has its railway stations bellies full with slurping Chinamen; India has its holy riverbanks speckled with glints of gold; England has a puddled pavement tiptoed by a dainty shoe; a Mexican market bellows under a heated squall of conversation; Australia's outback has a 90km/h slithering trail of fibreglass boxes containing every feasible Tupperware and tool to trade for snippets of snobbery and gossip. Moreover the inhabitants of these boxes are insanely similar to the box behind them – some pair-offs only identifiable via their sub-class – Toyota, Nissan or Mitsubishi. To own a caravan seems to be the Aussie Dream and every time I hear the speech of "Aborigines can never change" I secretly roll over and declare 'I'm not bloody surprised, their country has been invaded by Fibreglass Sheep!'
"An Arsenal of Deadly Weaponry"
Alice Springs initially reminded me of Lhasa, Tibet – a small, unbothered town where life ticks over nicely beneath its famous moniker. Like Lhasa, the Alice is surrounded by a fringe of low-lying rocky mountains and visited by a snaking river (although Alice's Todd River is devoid of water) and also like Lhasa, Alice Springs is miles from anywhere.
The Alice Springs Desert Park is a vast display of various desert habitats spliced together with incredible exhibitions and it was here I met the amiable character, Ranger Doug. A stout, mixed-blood Aborigine who expertly explained the intricate life of his people in resounding voice. He explained their in-depth knowledge of bush tucker (attained through generations of trial and error) and talked us through their arsenal of deadly weaponry, from the No.7 boomerang to a spear launcher that could fell a moving red kangaroo from 30 metres. Doug also revealed the iconic dot paintings of many semi-nomadic tribes are a reference tool for relocating water and other vital resources, depicted via the memorable stories of the Dreamtime . I was enthralled as Doug touched on the intricate, vital science of skin grouping and brought his talk to a close with the words "Aboriginal Australians are in early stages, bringing together modern ways and the old ways, it's only recently – 140 years – since the Alice was encroached by the white man". That resonated – one hundred and forty years is hardly any time at all.
Australia's Icons
With equal intrigue our final days were spent digesting the plight of the white settlers. Alice Springs is the hub for two of Australia's most iconic services. The 'Royal Flying Doctor Service' (RFDS, est. 1928) utilises over fifty aircraft from twenty-seven bases around the outback covering over seven million square kilometres. The RFDS is rightfully revered and you find charity boxes in every roadhouse and pub in the outback. It was the technology and experience of the RFDS that made the second institution possible. Australia's 'School of the Air' brings modern education to every nook and creek it's needed in the outback. Covering an area of 1.3m km² the students are taught everything from maths and science to yoga and Indonesian!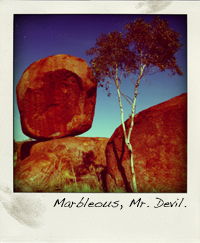 The Alice educated me in all sorts of areas. Without it, I would have viewed the outback as a vast ocean of mediocrity being drawn into its own vanishing point (on the back of a caravan). Now my imagination is armed with wayward boomerangs and portent Dreamtime epics – the journey's born again.
********
For more information on Aboriginal culture than you can puff a didgeridoo, at visit the following websites recommended by Ranger Doug of the Alice Springs Desert Park; www.aboriginalaustralia.com, aboriginalart.com.au/culture/, www.indigenousaustralia.info/culture , www.creativespirits.info/aboriginalculture.